Buying and Using Groundswell Rising
Groundswell Rising is a powerful tool to raise awareness of the true cost and consequences of drilling by the oil and gas industry.
Below is a menu of options for how you can use Groundswell Rising to make a difference.
Buy the DVD
This DVD is for you for $19.95! Perfect to view with friends, family, and colleagues and to gift as a present.
Note that these DVDs are for HOME USE ONLY and are not licensed for public, community or educational screenings. For other uses, scroll down to find the version that is right for you.
Tax deductible proceeds from DVD sales help support our continued outreach to bring Groundswell Rising to audiences across the United States and abroad. Your purchase will help us educate and empower communities across the country to protect their health and their rights.
Own your own copy of Groundswell Rising for Home Use today!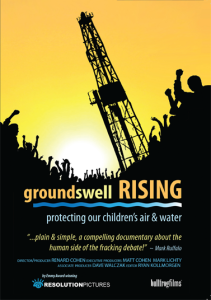 1 DVD $19.95 USD + Shipping
Organize a Grassroots Community Screening
Is Oil and Gas at your door? Organize a community screening today of Groundswell Rising and help educate your neighbors and friends about the true cost of natural gas development.
Step 1: PURCHASE your community-licensed DVD for activists and grassroots organizations from Bullfrog Films. There are 4 levels of screening, House Party $24.95, No Frills Community Screening $59, Small Community Screening $100, Medium Community Screening $200, Large Community Screening $350. CLICK HERE
This DVD is licensed for organizations, community groups and congregations doing screenings and for in-house organizational use.  ORDER NOW!
Step 2: Invite your friends to the screening
Step 3: Talk back to us! What is happening in your community? Connect with others across the country by participating on the Groundswell Rising Facebook page.
High School / College and Institutional Screenings
Groundswell Rising has been released by Bullfrog Films for use in universities, colleges, schools, public libraries and government agencies. To purchase the educational version and to read what academics are saying about Groundswell Rising, CLICK HERE.
Bullfrog Films is the leading US distributor of environmental films and a champion of independent media. Working with Bullfrog Films and getting the film to schools, universities and public libraries is an important part of our mission. When a school purchases the educational DVD, it stays in their library so it can be used by students and educators for years to come!